Do you get stuck sometimes when mixing your music or do you have trouble getting your mixes to sound right?
Or do you find it difficult to create a good audio mix for video productions? For example, a mix in which you can hear the music and sound effects well, but at the same time the voice-over is perfectly understandable.
The AudioKickstart.com Mix Helpdesk can help you on your way again! With mixing music and mixing audio for video productions.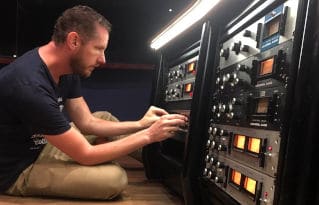 Who?
You will get help from Gijs Friesen. He has a lot of experience with sound design and mixing audio for video (a.o. for productions of Microsoft, Disney and Unicef) and mixing music (for example for performances of Jason Mraz, Miss Montreal and Mr. Probz at Radio 538). He will help you to get back on track in no time!
How?
Fill in the form below, upload your mix and write down what you're up against. You will receive an extensive mix analysis by email and we will then schedule a video call for a mini-workshop of approx. 20 minutes in which you will receive tips and tricks tailored to make your mix better.
What are the costs?
One session (mix analysis and video call) is 65 euro (incl. tax).
Call in the Helpdesk!
Please fill in the form below, no strings attached. An assignment is only an assignment if you agree to it.