Workshop recording & mixing podcasts (online)
Do you want to record podcasts but have no idea where to start? Or do you want to improve your podcast editing skills? In this online workshop you will learn exactly what you need to know to make a podcast sound great.
Which microphones to use, what recording equipment is best within your budget, how to get the best sound during editing and mixing and lots of other tips & tricks to make your podcast sound professional. The workshop will be completely customized to your needs. This way you will learn exactly what you need to know!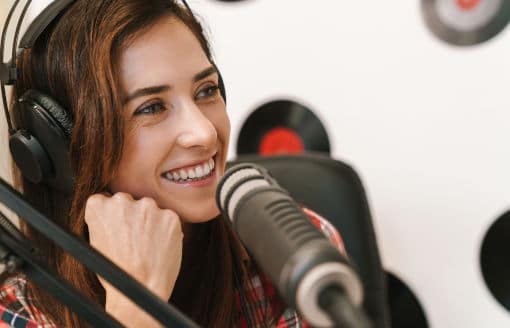 What does the workshop look like?
Pre-interview:
First we will discuss what you want to learn. Maybe you've never recorded a podcast before and you want to know exactly what equipment you need, how to make the recording sound good and what to pay attention to when recording. Or maybe you've already recorded 100 podcasts, but you want to improve your editing and mixing skills. In an initial interview, we'll determine what we'll cover in the workshop.
Workshop:
After that we plan the workshop itself. It is an online workshop, in a one-on-one video call of about 1 hour you will learn everything you need to know about recording, editing and mastering podcasts. We focus on the topics we've chosen in the pre-interview, so you'll learn exactly what you need in practice.
Feedback on your podcast:
After the workshop you're ready to make your podcast sound perfect! Once you have recorded and mixed your podcast, you can receive feedback on it if you wish, so that you can fine-tune everything you have learned.
Questions afterwards? AudioKickstart.com is your helpdesk!
If you still have questions after the workshop, you can always send an email. After you have done the workshop, AudioKickstart.com will continue to be your 'helpdesk' for podcast recording and mixing for one month.
Price: € 199,-
excl. 21% VAT
Interested?

Please fill in the form below to plan your workshop or to get more information.

Who conducts the workshop?
Gijs Friesen is sound designer, (broadcast) music engineer and composer (tunes and jingles), and he is owner of AudioKickstart.com. He has been associated with many aspects of the audio industry. Working as a sound engineer for radio and (broadcast) music engineer mixing performances of artists like Jason Mraz, Joss Stone, James Blunt; a sound designer working on productions for Disney, KPMG, Spotify and as a composer for productions of Rituals, BNR Nieuwsradio and Invesco. With AudioKickstart.com Gijs conducts workshops about all things audio.