Workshop perfect audio for voice-overs
As a voice-over you need a good home studio. With the right microphone, software and audio gear. And a recording room with good acoustics. If you have all that, the next step is to know how to edit your own voice recordings. In addition, the equipment must be properly set up so that your voice sounds great on every recording.
In this workshop you will get help with all of this, so you can get the most out of your studio and make great voice recordings!
The workshop will be given by Gijs Friesen. For the past 20 years he has worked as an audio engineer and sound designer for numerous commercials, movie trailers, web videos and (broadcast) music projects. He has supervised a lot of voice recordings and was involved as audio specialist at Voicebooking for a few years. In short: the right guy to take your studio to the next level! 🙂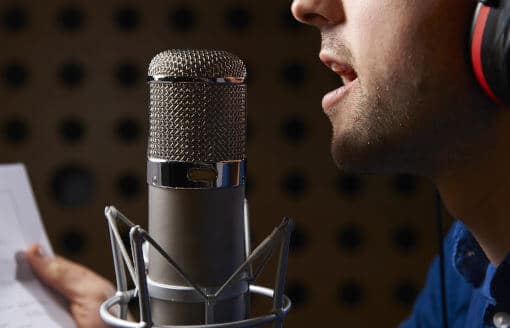 What does the workshop look like?
Pre-interview:
First we will discuss what you want to learn exactly. Maybe you don't have your own studio yet and need some help with buying and setting up the equipment. Or maybe you've had your own studio for years, but want to improve your editing and mixing skills. Or you want to upgrade the sound of your studio and equipment. You decide what this workshop will look like. Pick the subjects you like from this list:
>> Help with building a studio
>> Help to improve the acoustics in your studio
>> A 'studio analysis' to see where/how improvements can be made
>> Guidance on which studio equipment you should buy within your budget
>> Have your studio equipment set up, customised to your voice, so that every recording sounds clear, warm and professional.
>> Learn basic editing skills in Pro Tools, Adobe Audition or Audacity
>> Learn the basics of mixing audio
The workshop:
The workshop will take place at your home or in your studio. The workshop takes about 3-4 hours. We will elaborate on the topics chosen in the pre-interview.
Questions afterwards? AudioKickstart.com is your helpdesk!
After you have done the workshop, AudioKickstart.com will continue to be your 'helpdesk' for 1 month, for all questions about your studio, about editing and about mixing audio!
Price: € 449,-
excl. 21% VAT and travel expenses
Interested?

Please fill in the form below to plan your workshop or to get more information.

Who will conduct the workshop?
Gijs Friesen is a sound designer, composer, and audio engineer, and the owner of AudioKickstart.com. He has worked in various branches of the audio industry: as a sound designer for productions from companies such as Disney, Bol.com, Spotify; as a composer for productions from companies such as Rituals, BNR Nieuwsradio, FD and Invesco; and as an audio/music engineer for various radio stations (including Radio 538, NPO Radio 2), where he mixed for artists like Jason Mraz, Alain Clark, and Joss Stone. With AudioKickstart.com, Gijs provides workshops on everything related to audio.